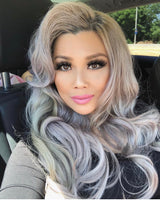 About Sidney Le
Sidney has been in the beauty industry for over 20 years and takes pride in providing a collaborative, uniquely rounded, and compassionate approach in reaching the desired look for her clients. Through active listening and thoughtful communication, clients are able to receive the customized-look and service they desire! 
Sidney's artistic talents were recognized when she was at MAC Cosmetics, where she built a steady clientele for bridal hair and makeup. The demand for services dictated the opening of her first shop in Sacramento, CA, in 2010. Already an established makeup artist, Sidney expanded her expertise by graduating from Paul Mitchell Cosmetology School, studied under celebrity makeup artists, and received certification by the lash guru of Long Mi Lashes, Daniel Dinh. She continued her schooling and became a certified permanent makeup artist in the USA and Asia! Sidney created her own technique and is now an instructor herself, spreading the knowledge and inspiring those around her.
Sidney has a way with people. She made me feel so comfortable along the whole process of getting my eyebrows tattooed. I was so nervous about it but I couldn't be happier with them! I'm so glad I made the choice to do it!

Angela K.
I save 20 minutes every morning now because my lashes and brows are already done! I'm not rushing out the door to get the kids to school anymore!

Kim N.
I got referred through a friend from work and honestly couldn't be any happier. I've been getting my eyelashes done for over 5 years, recently moved and didn't know where to go, tried a couple spots but so far Sidney Le Beauty is the best.

Roxana A.